What Film Gear Do I Use? (2D/360 Cameras, Audio, and Misc Gadgets/Tips)
You think you want to try your hand at film? Leapfrog this wisdom seeking ethnogeronpreneur and start with these lists. We'll cover mirrorless cameras, virtual reality and 360 tools, sound equipment, drones, a mini studio / blogger setup and misc tools needed while on the road - including software. Suggestions welcome!
Camera and Accessories
I love the Sony A7RII camera! To be completely candid, almost all of my settings are on automatic when I'm personally filming. During the #EuroLongevityTour I tried to use manual for most settings. Long story short - multitasking between 2D film, my Samsung S8, 360 cameras and sound equipment was a lot and now I opt to reduce fumbling around and focus on the moment.
Try not to judge the Sardinian mud. She's been through a lot and deserves a good cleaning if anyone has recommendations for pros in DC?
Camera: A7RII (if I were buying new, I'd get the A7RIII)

Lens A (I LOVE this lens but no longer at B&H): Sony FE 24-240mm f/3.5-6.3 OSS Lens

Lens B: Sony FE 50mm f/1.8 Lens

Rode VideoMic Pro Plus On-Camera Shotgun Microphone
360 Cameras for Virtual Reality Content (+ accessories)
I use the Yi and GoPro Fusion. I usually have two of each with me. This is because I once broke 2 Fusions within the same morning. The Yi has incredible color capabilities and is crisp but can't handle jarring (like a helicopter ride). The fusion is usually pretty durable, but I'm hard on equipment.
Audio
Recorder: Zoom H6 Handy Recorder with Interchangeable Microphone System

Microphone/ Lavs: Sennheiser ew 112-p G3 Camera-Mount Wireless Microphone System with ME 2 Lavalier Mic - A (516-558 MHz)

Batteries. Lots of batteries. More than you think is ever necessary.
Misc Necessities
There are a lot of things that I wouldn't have thought of initially. Memory x 3, charging, and tape are the main takeaways. A headlap has come in handy often. I'd also add a portable light to the list. As always, extra batteries.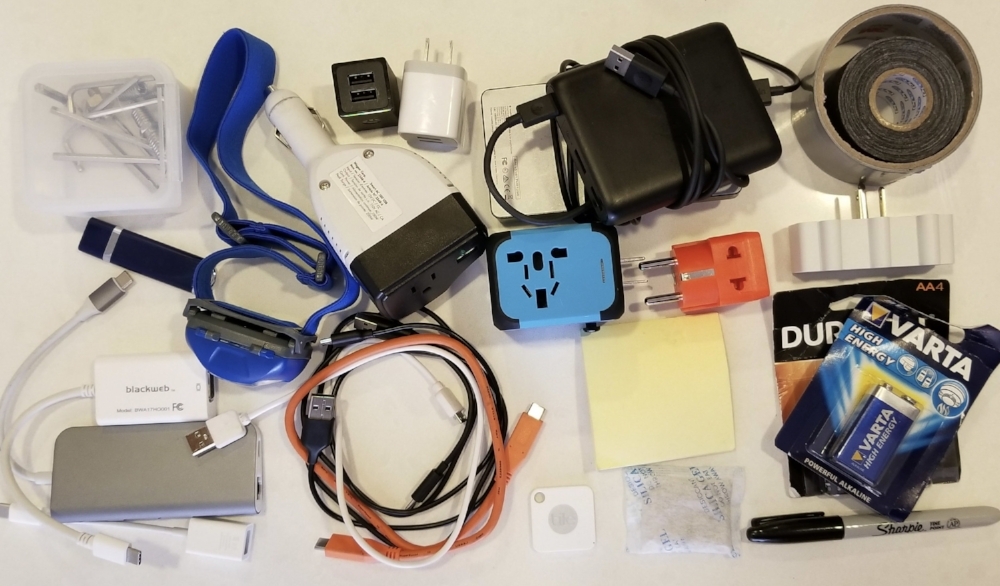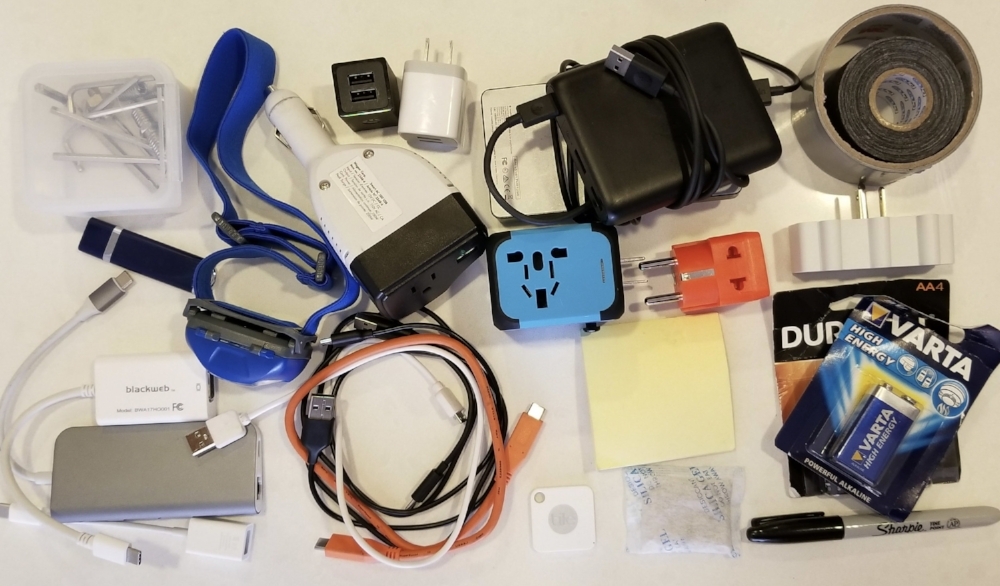 Drone - DJI Phantom 4 Pro Quadcopter
DJI Phantom 4 Pro Quadcopter shoots beautiful 4k. So far the only incident I've had with the drone is because of an aggressive Puerto Rican dog chasing the DJI up a canyon... leading the beast back to our crew when it was time to land. Seriously, prepare for crazy landings. Dogs strongly dislike the buzzing.
DJI Phantom 4 Pro Quadcopter

DJI Intelligent Flight Battery for Phantom 4 Pro/Pro+ (Standard Edition)
Mini Studio Setup for Interviews / Blogging
Angler Circo LED Ring Light (19")

Impact Collapsible Background - 5 x 7' (Black/White)

Impact Air-Cushioned Light Stand (Black, 8') x 2

Watson 25 ft AC Power Extension Cord 16 AWG (Black)

Impact Super Clamp with Ratchet Handle
Computer, Phone, and Tablet
I will start by saying that I love my Samsung S8 phone. I switched from Apple in August before Europe and was surprised at how easy it was to use. The quality of the images, videos, and sound has made a huge difference, especially in low light situations. It surprised me how much more intuitive it felt and how much easier it is to manage multiple social media and email accounts.
Unfortunately, Yi and GoPro Fusion Apps don't exist on Android. I have the iPad for that. It is helpful to use the apps at times while shooting 360, but if it's just me on the shoot or I happen to have extra time and a spare hand, I rarely use it.
The new MacBook Pro is amazing. I actually use the touch bar while editing.
Bonus! Software and Tools
Adobe Premiere Pro (VR and 2D editing)

Adobe Spark (Trust me just try it. I use it for proposals, social media posts, etc)

Adobe Lightroom (easy cloud storage and editing)

Dropbox and Google Drive for file sharing (my editor and I use this when we are working at a distance)